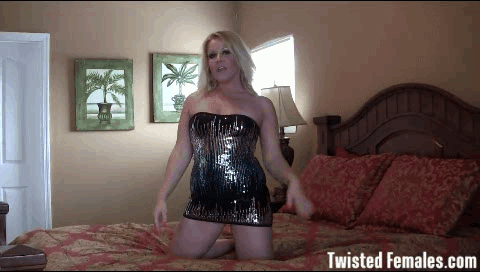 share gif:
Whitney Morgan wants to have a little fun with her submissive friend who just enjoys watching her be ravished by her stallion. This hot blonde make her cuckold enjoy every second of her bouncing on a stiff tool.
I bet you would love the opportunity to fuck my hot body but I am so sorry, that is not going to happen. In fact, a loser with such a small cock could never ever have the glory of penetrating my tight snatch. The only think you will be able to do is sit back and relax while watching me get fucked by a real man. Maybe I will let you take out your dick, if you watch your manners.
You are going to gaze at my lover as he grabs me from behind and drill my moist hole while thinking that at least someone else gets to please me since you can't do the job. Does that turn you on? I know that your real fetish is watching other fellows shag me because you are, obviously not a real man. After my handsome man ejaculates deep inside me, your duty is going to clean all of that cum out of my pussy with your tongue.
- Whitney Morgan