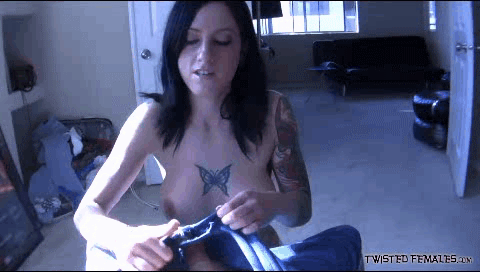 share gif:
Tricia Oaks is a hot and kinky fetish babe who loves driving guys crazy by making them watch while she services other men. Maybe if you weren't such a loser you would be the one getting your cock milked.
You're such a fucking perv that I know you are going to love watching me jerk this complete stranger's cock off. I picked this guy up off the street just to show you that practically every single guy out there is more of a man than you. Go ahead and get you dick while you watch me give a man the greatest handjob of his life.
Just look at how hard his cock is already. I've barely even touched him and he's already stiff as a rock. I bet you wish that this was your cock I have gripped tightly with both hands, don't you? You just sit there and stroke your little cock while I make this guy cum harder than he ever has in his whole life.
- Tricia Oaks