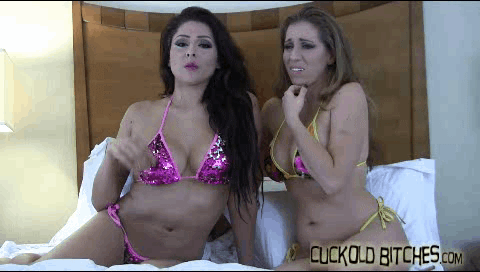 share gif:
You care very much for Jasmine Mendez and Samantha Grace, but given the size of your penis, how can you blame them for not being interested? Today they are going to tell you about all the other dicks they have been enjoying behind your back.
We like real men. You know, not you – we like to keep you in chastity and tell you all that goes on. We actually just got back from a threesome, and you should have seen the size of his cock. Compared to yours? Hah. Your forearm is smaller than his cock was!
Do you like the fact that we are wearing the bikinis you got for us? Isn't it fun? The fact that you spend all of this money, time and effort on keeping us happy, but all we want at the end of the day is something you cannot provide us with. We wish that you could experience the pleasures of having a big cock, it's such a shame that you have such a laughably small package.
- Jasmine Mendez & Samantha Grace