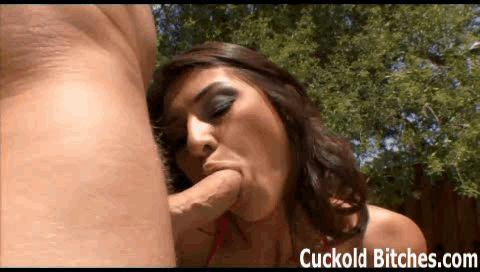 share gif:

You got off work early because you wanted to go and see your wife by the pool in the new bikini you bought for her. When you get home, you realize that she has been fucking around with another guy in your own back yard.

What did you expect me to do? I had to get pleasure somehow, and it sure as hell was not coming from you. I need sex in my life, and I need a lot of it. You cannot just wait around for weeks on end and not come up with a solution. That's why I took it upon myself to invite this stud over and have myself fucked well and truly by his massive cock.

While you're here, you might as well watch because this will be one of the few times you will be able to witness your wife getting fucked like she wants to be. My tight pussy is so hungry for this stranger's cock, and now that I think about it, you sitting there while I cheat on you is empowering. You're my little cuckold now, and we're going to make this regular.